Activity Survey
The APBMT Activity Survey has been performed since 2007.
The following figure shows how the data was collected.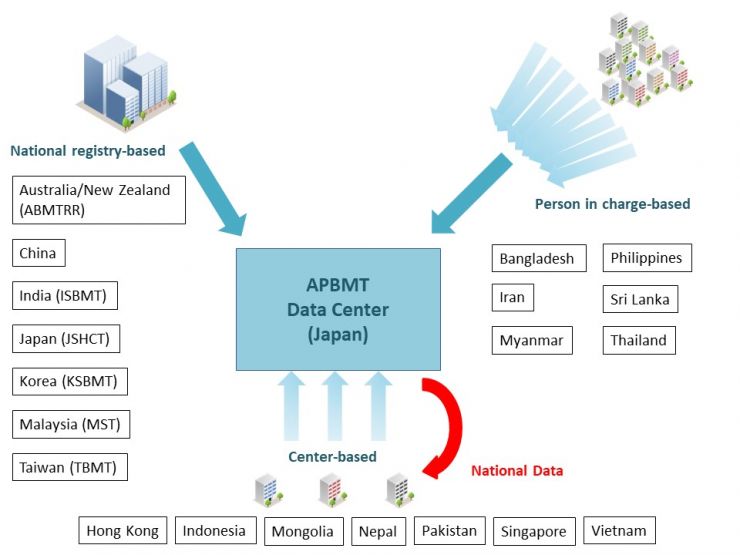 The way of submission is different in each country/region.
From the countries/regions which have a national registry, data is submitted through the national registries. From the countries/regions which do not have a national registry, data is submitted through the regional persons in charge who collect data from major transplant centers or through major transplant centers directly.
The result of Activity Survey 2018 (HSCT performed in 2017)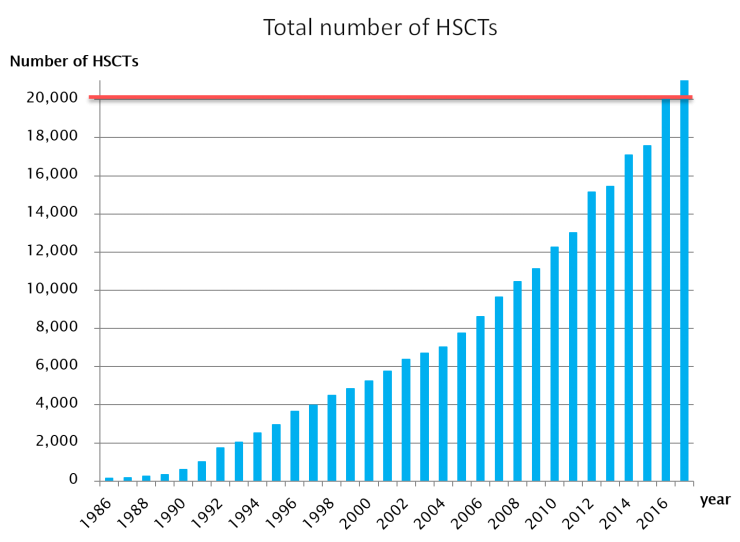 The No. of HSCTs are increasing year by year.
In 2017, that exceeded twenty one thousand in Asia - Pacific region.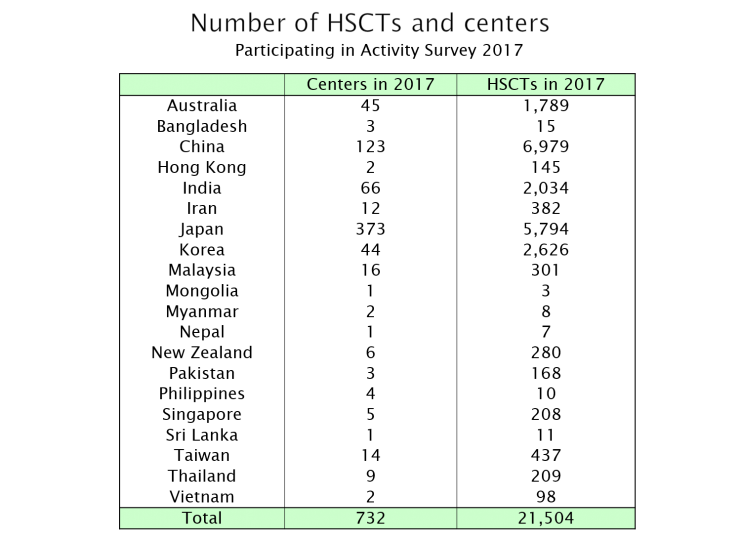 20 countries/regions and seven-handred-thrirty-three centers cooperated with our Activity Survey.
We appreciate about 40 cooperators made effort collecting this survey.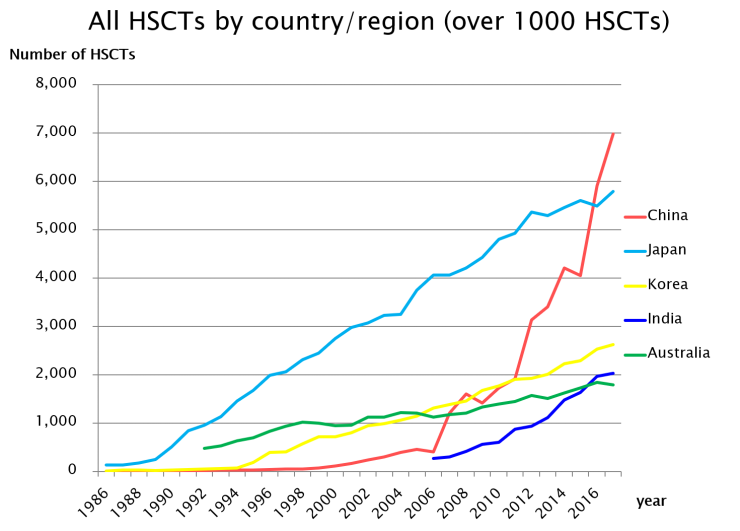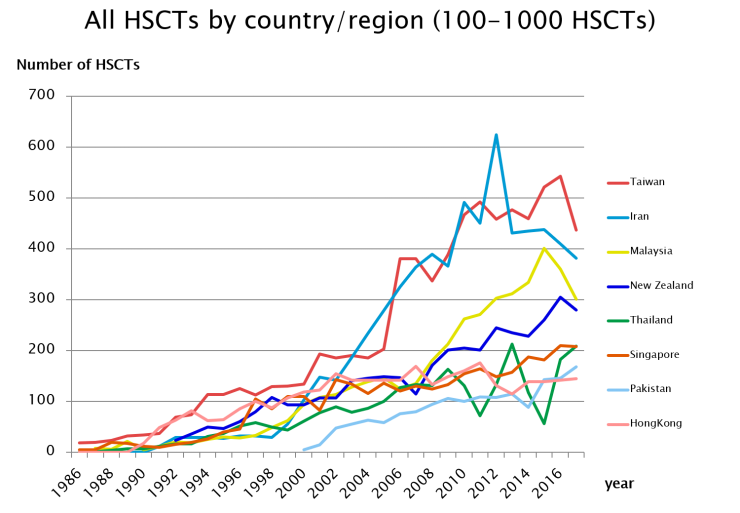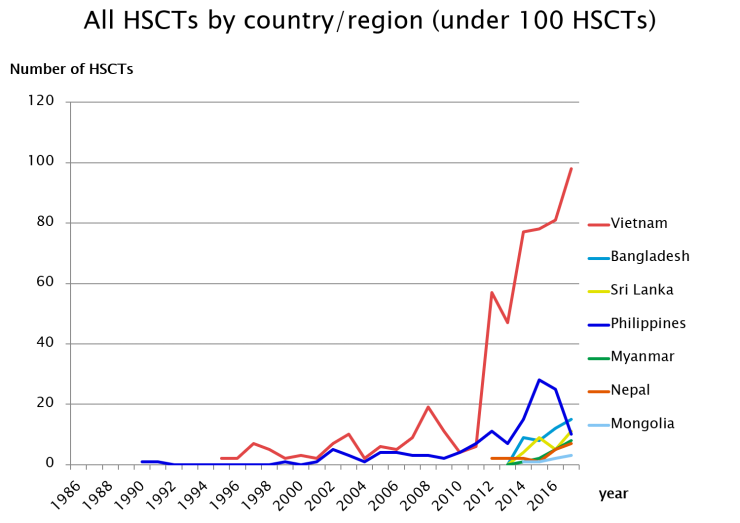 In 2017, Australia:1789, Bangladesh:15, China:6979, HongKong:145, India:2034, Iran:382, Japan:5794, Korea:2626, Malaysia:301, Mongolia:3, Myanmar:8, Nepal:7, NewZealand:280, Pakistan:168, Philippines:10, Singapore:208, SriLanka:11, Taiwan:437, Thailand:209, and Vietnam:91 HSCTs performed.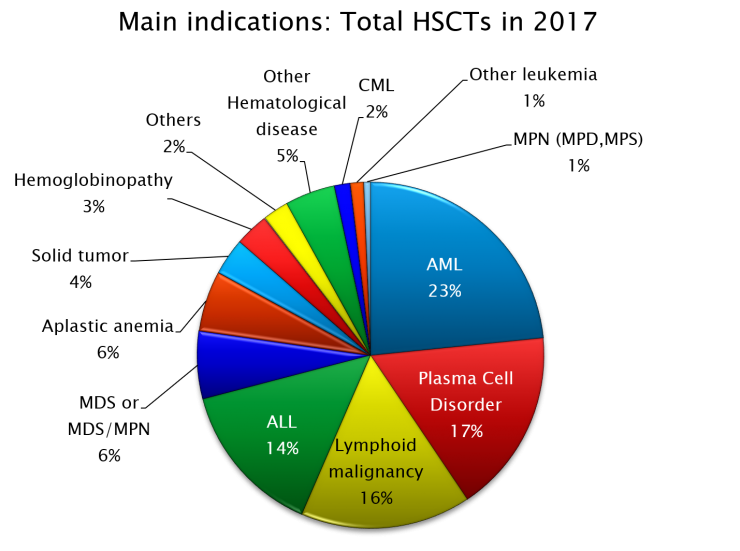 The pie chart showing the Main indication of HSCTs in Asia-Pacific area.
AML accounts for more than 23 %, Plasma Cell Disorder: 17%, Lymphoid malignancy: 16%, and ALL : 14%. These top 4 indication accounts three fourth of the whole.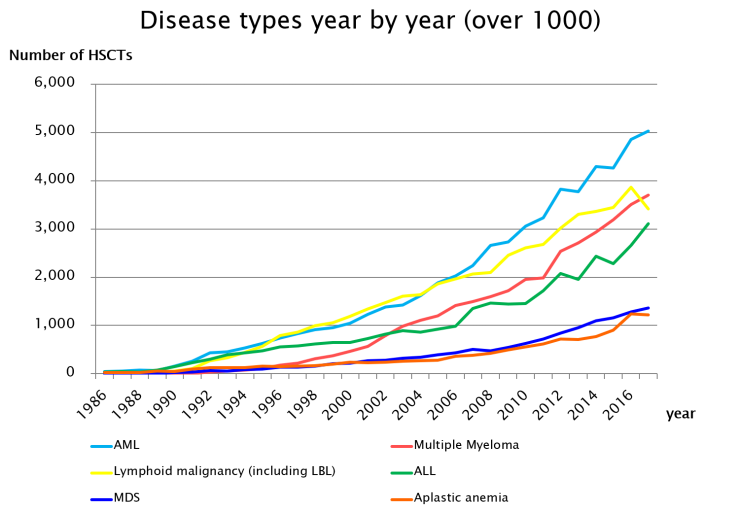 The top 6 disease indications are AML, Lymphoid malignancy, Multiple Myeloma, ALL, MDS, and Aplastic anemia.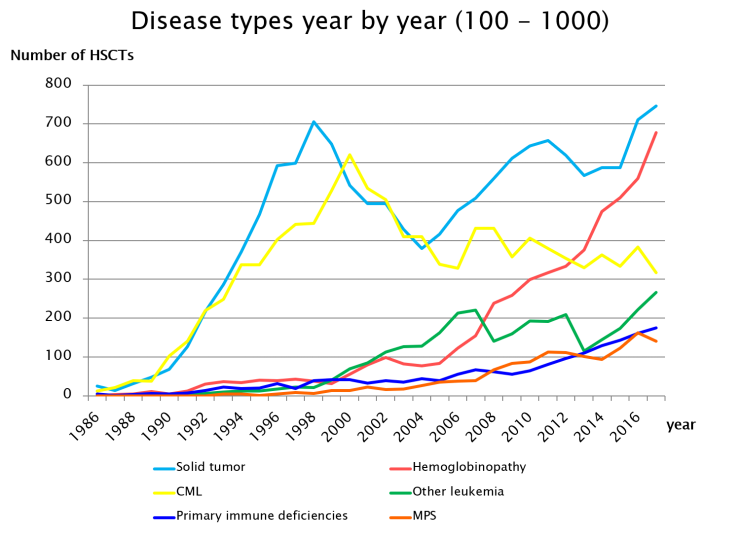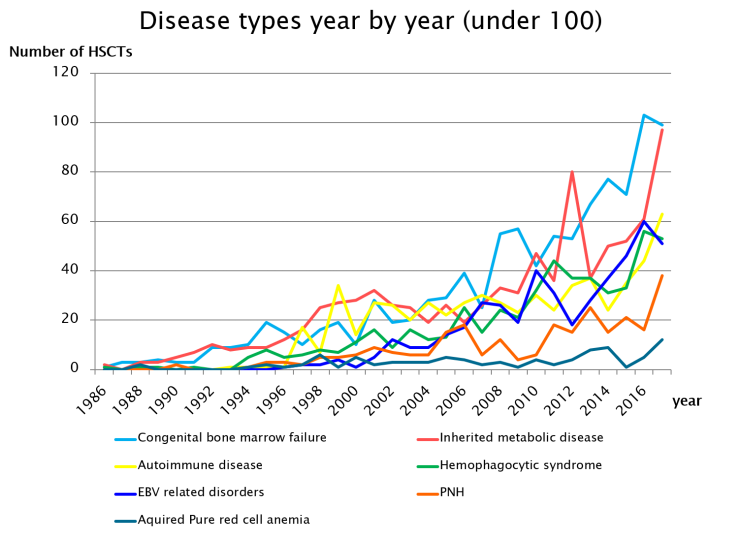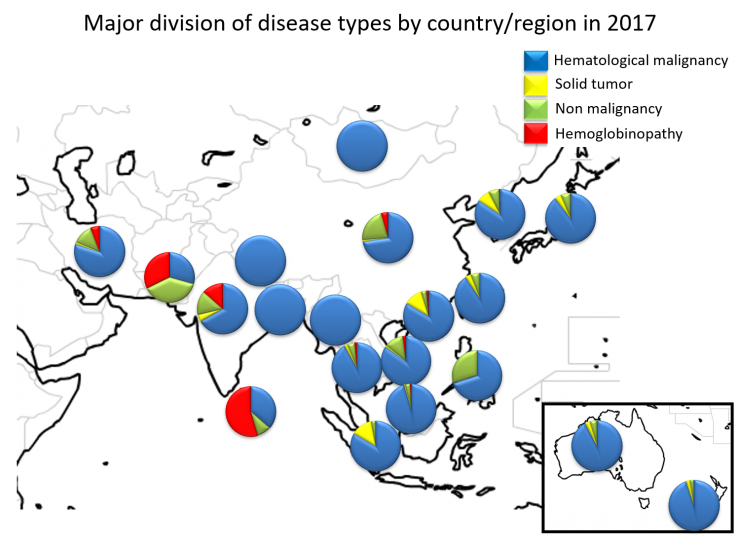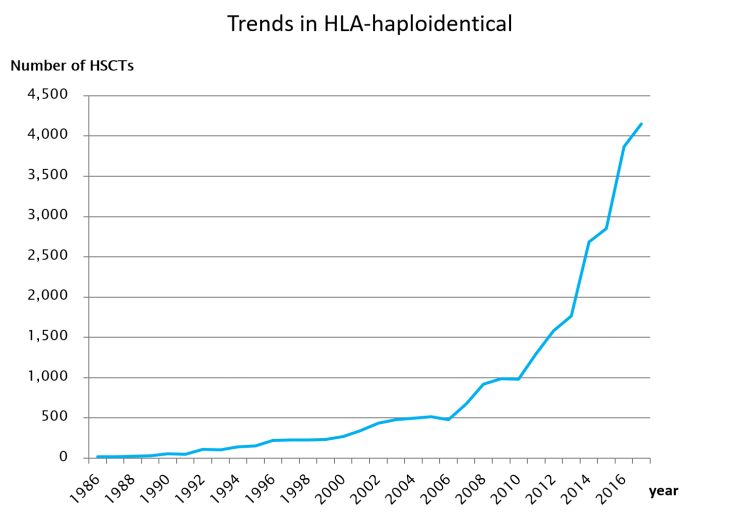 No. of Haplo transplant increased rapidly. In 2017, the number of them run up to 4,143.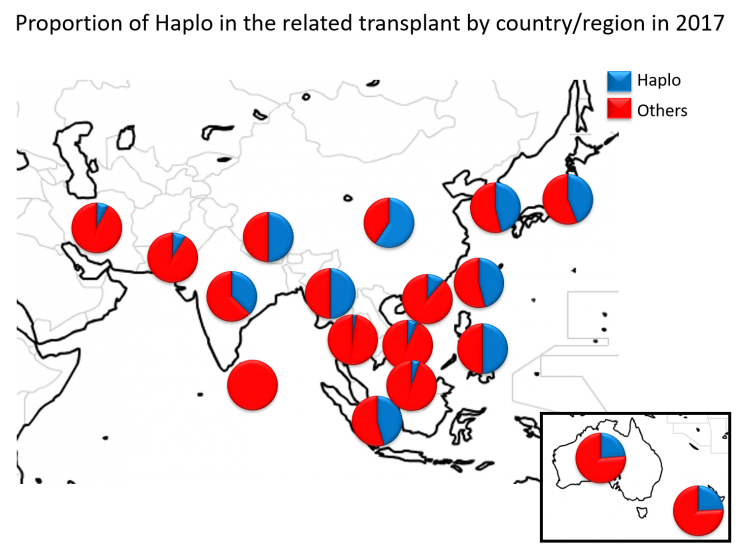 Haplo transplant were performed in many countries.
In China, Myanmar, Nepal, and Philippines, Haplo transplant accounts for more than half of related transplant..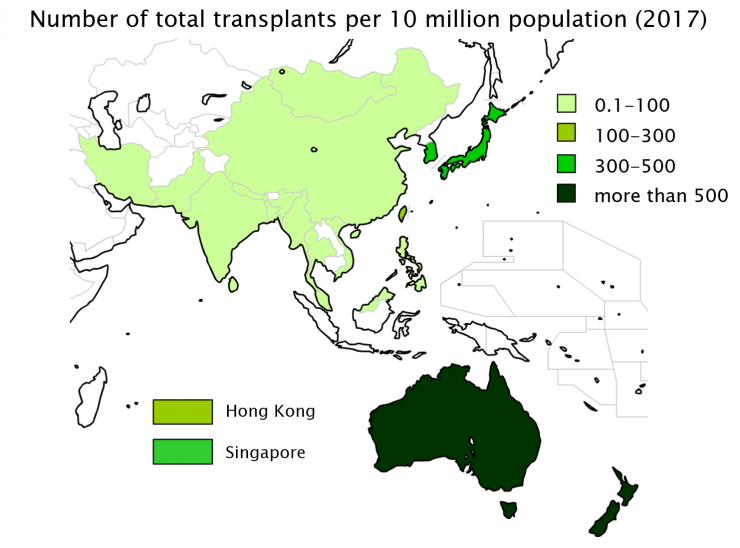 0.1-100 Bangladesh, China, India, Malaysia, Mongolia, Myanmar, Nepal, Pakistan, Philippines, Sri Lanka, Thailand, and Vietnam
100-300 Hong Kong, and Taiwan
300-500 South Korea, Singapore, and Japan
more than 500 Australia, and New Zealand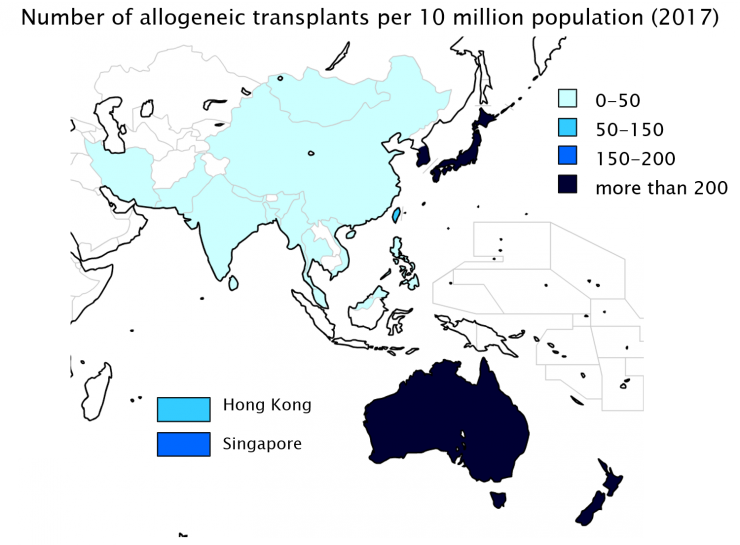 0.1-50 Bangladesh, China, India, Iran, Malaysia, Mongolia, Myanmar, Nepal, Pakistan, Philippines, Sri Lanka, Thailand, and Vietnam
50-150 Hong Kong, and Taiwan
150-200 Singapore
more than 200 Australia, Japan, New Zealand, and South Korea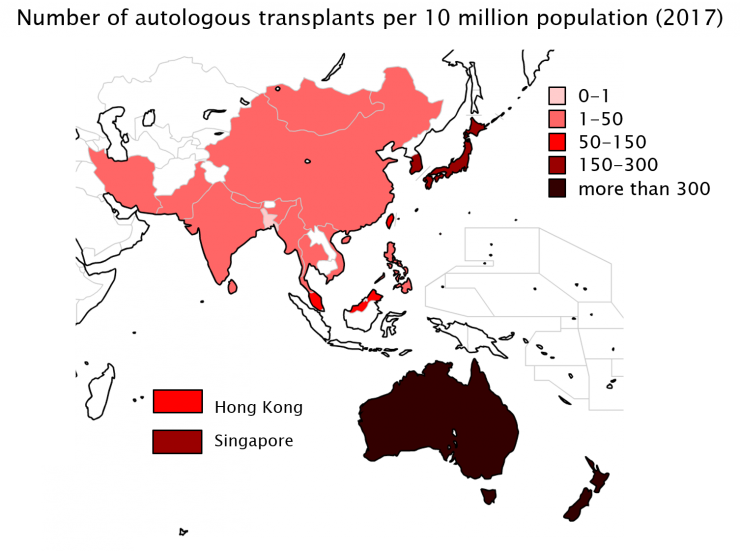 0-1 Bangladesh, and Philippines
1-50 China, Iran, India, Malaysia, Mongolia, Myanmar, Nepal, Pakistan,Sri Lanka, Thailand, and Vietnam
50-150 Hong Kong, and Taiwan
150-300 Japan, Singapore, and South Korea
more than 300 Australia, and New Zealand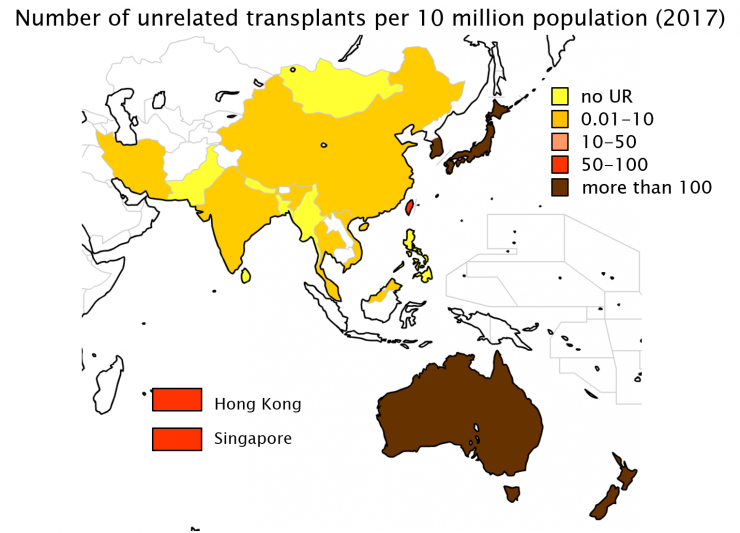 no UR Bangladesh, Mongolia, Myanmar, Nepal, Pakistan, and Philippines
0.01-10 China, Iran, India, Malaysia, Sri Lanka, Thailand, and Vietnam
10-50 Taiwan
50-100 Singapore, and Hong Kong
more than 100 Australia, Japan, New Zealand, and South Korea
Detailed information of APBMT Activity Survey 2020 (HSCT performed in 2019) (PDF). :Members only; need ID, and Password